Hyundai Donates Over $3 Million To Hurricane Ian Disaster Relief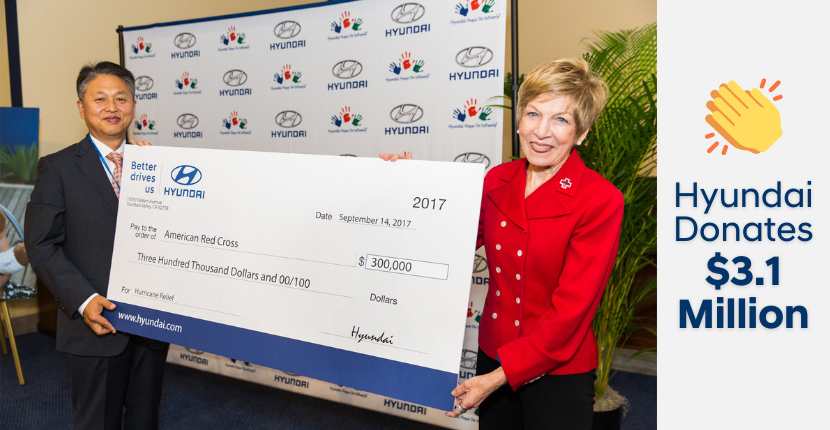 After Hurricane Ian hit Florida this past year, Hyundai immediately began working on a way to help. To support communities affected by Hurricane Ian, the manufacturer is donating $3.1 million to charities supporting Florida residents impacted by Hurricane Ian. The donation will go to a variety of charities and will focus on the most devastated families and areas. Learn more about Hyundai's Hurricane Relief programs now at Rosen Hyundai Kenosha! 
Hyundai Makes A $3.1 Million Donation 
Hyundai is donating $50 for every Hyundai and Genesis vehicle sold in October to charities supporting Floridians affected by the devastation of Hurricane Ian. The total donation is $3.1 Million. 
Hyundai Motor Group also separately donated $1 million to the American Red Cross in support of its Hurricane Ian relief efforts. The program is an extension of Hyundai's long-standing Hyundai Assurance program. Hyundai Assurance is dedicated to the safety, health and well-being of its customers, employees, dealers, and communities in which it does business.
Supporting Florida Charities 
Hyundai Donates is distributing its donation across three charities doing crucial work in Florida: 
Feeding Florida

:

Feeding Florida is the state's network of 12-member food banks working to solve hunger. The food banks are on the ground providing food, water and resources to those affected by Hurricane Ian.

Habitat for Humanity of Florida

:

Several Habitat for Humanity affiliates across Florida are assessing damage across the state and will be engaged in long-term recovery efforts to help communities build back from the devastating effects of Hurricane Ian. Their post-disaster recovery efforts will focus on meeting long-term housing needs, repairing damaged homes and building affordable, disaster-resistant homes.

Project Hope

:

Project Hope supports local healthcare workers saving lives across the globe. They are currently responding to Hurricane Ian by delivering medical supplies, hygiene kits, food and clean water, as well as supporting clinics serving the most vulnerable.
Hyundai Supports Communities In Florida 
José Muñoz, President and CEO of Hyundai and Genesis Motor North America, said:
We have seen the devastation that Hurricane Ian has brought to Southwest Florida and Hyundai is committed to helping those impacted by the storm as they rebuild. We know these organizations will help to provide this community with the resources and support they need to continue moving forward.
Visit Rosen Hyundai Kenosha!
Looking for a Hyundai Kenosha, WI? At Rosen's Kenosha Hyundai, we have a full inventory of new and used vehicles—including the exciting new 2023 Hyundai Kona! Our goal when you visit our new Hyundai dealership is to provide you with a superior experience satisfying your needs. Experience the Rosen difference when you shop or service with us! So visit us to contribute towards Hyundai's charity efforts or learn more about how your purchase can help those affected by natural disasters in the future!