IONIQ 6 Wows With Huge EV Range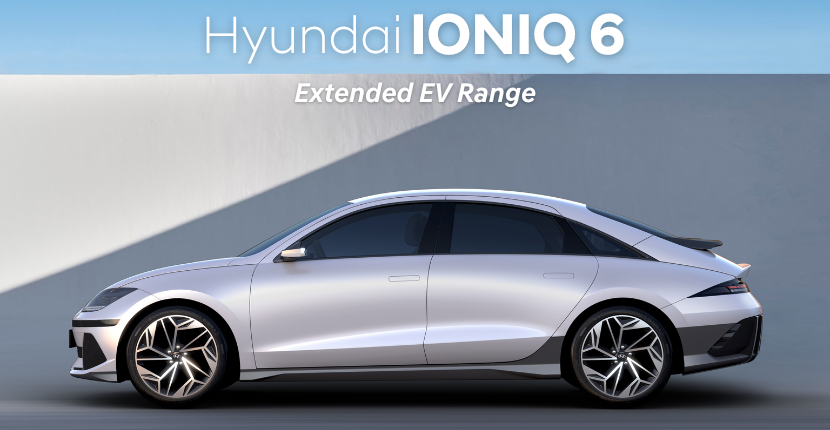 A new form of electricity is coming in 2023. It's the first-ever IONIQ 6. The evolution of the IONIQ family takes a leap forward with a gorgeous newcomer. The Hyundai IONIQ 6 features a streamlined silhouette that takes your breath away, technology that anticipates your needs, and ultra-fast charging capabilities that saves you more time. The IONIQ 6 release date is expected to arrive in early 2023 with extremely limited availability. Visit Rosen Hyundai of Kenosha to take your journey with the IONIQ 6 today! 
Redefining The User Experience 
Hyundai is creating a mindful retreat where everything is personalized to make you feel relaxed and at home. Hyundai's latest technologies are also designed to keep you fully connected and engaged. And it all happens in a stylish space that maximizes the 116-inch wheelbase with flat floors and sleek front seats.
Letting Inspiration Flow 
You'll find something that makes a lasting impression everywhere you look on the IONIQ 6. Whether it's the crafted contours and aerodynamic elements, or the pixel lighting theme that began with IONIQ 5 and goes even bigger here with hundreds of LED pixel lights, inspiration will flow to make your driving experience like nothing you've done before. 
Relieving Range Anxiety 
The Hyundai IONIQ 6 will be among the most energy-efficient mainstream EVs available today. With a range of drive motors and battery packs to fit the needs of every driver, the Hyundai electric car features a long-range 77.4-kWh battery that can be paired with either rear-wheel-drive (RWD) or all-wheel-drive (AWD).
With WLTP-rated energy consumption of 13.9 kWh/100 km, the IONIQ 6 will be one of the most energy-efficient electric vehicles on the market. Hyundai's eye-turning E-GMP platform will provide 800V ultra-fast charging from 10 to 80 percent in just 18 minutes and supports 400V charging without the need for additional components or adapters.  
Be Prepared For The Release 
While the Hyundai IONIQ 6 will hit dealers in early 2023, there will only be limited availability. You won't want to miss your opportunity to drive one of the most exciting new luxury electric vehicles! Stay up to date with the latest information and updates on IONIQ 6 here. 
In the meantime, get excited about the amazing features coming to the IONIQ 6. The estimated IONIQ 6 price starts at just $44,000, and it will get you extended range, luxurious and spacious interior, and speedy charging. 
Visit Rosen Hyundai Kenosha!
Looking for Hyundai dealers in Wisconsin? At Rosen Kenosha Hyundai, we have a full inventory of new and used vehicles—including a host of Rosen EVs! Our goal when you visit our new Hyundai dealership is to provide you with a superior experience satisfying your needs. Experience the Rosen difference when you shop or service with us! So experience a new form of electricity—stop in now to be among the first drivers of the IONIQ 6!