Hyundai Named 2021 Best SUV Brand by U.S. News & World Report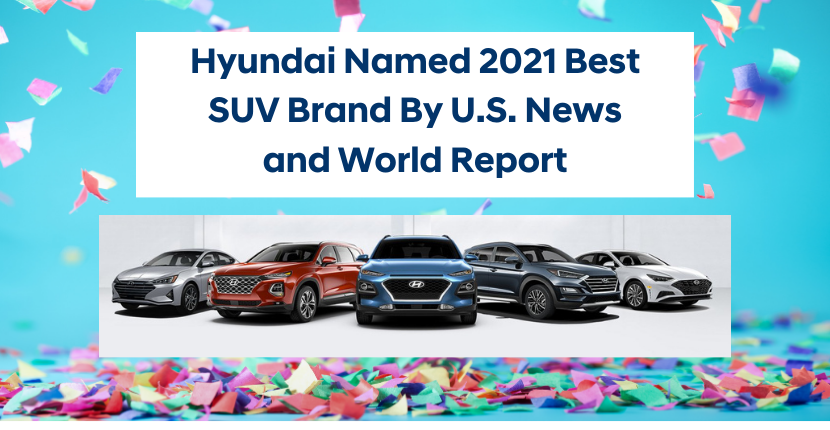 Here at Rosen Hyundai Kenosha, we're used to hearing good news about the great Hyundai vehicles we sell and it never gets old. That's true for Hyundai's recent recognition as the 2021 best US SUV brand. If you are already an owner of a fantastic sports utility vehicle such as the 2021 Hyundai Kona EV, Palisade, or Santa Fe, you appreciate this. However, if you've never driven a Hyundai, but are considering buying any of the great Hyundai 2021 models, read on.
Hyundai SUV 2021
U.S. News and World Report have been recognizing the good work of U.S. car manufacturers since 2007. This is the first time Hyundai has won the award for best Hyundai SUV 2021. The article mentioned the company's diverse lineup of ranges and luxury offerings from large and midsize to compact and subcompact. The magazine also pointed out tech features such as driver assistance and infotainment technology. The SUV category has never been more competitive, which makes this an accomplishment to be proud of.
To determine the winner of US News Best Car Rankings, a ranking system was used for each model in a particular class. These rankings are determined by reviews from what the magazine deems as credible automotive press. In other words, they don't just take our word for it. The rankings based on review take into consideration both interior and exterior features as well as performance, safety, and technology.
Hyundai is the Best Brand SUV in the U.S.
The most important benefit to being recognized as the best brand SUV to buy is that U.S. News Best Cars get millions of visitors to their website. These visitors are actively looking for the best SUV brands and the vast majority of these shoppers report that the information they found on the website influenced their decision on what new car to buy.
2021 Hyundai SUV
As honored as Hyundai is by this award, it doesn't affect the way the company does business. From the design to the build, the people who work for Hyundai take great pride in producing safe, reliable, and affordable vehicles. Technology is an important part too. That's why these vehicles are sold at over 820 dealerships across the country including Rosen Hyundai Kenosha. The bottom line is, if you're in the market for a new SUV, then a 2021 Hyundai SUV is your best option.
Call or Visit Rosen Hyundai Today!
If you're ready to start shopping for a 2021 Hyundai, come visit Rosen Hyundai Kenosha today. You can do so in person or browse our inventory online. Call our sales department at 888-668-9528 or visit us in person. We're located at 6701 120th Ave. in Kenosha, WI!