Leave 2020 Behind in the Dust with a New 2021 Hyundai Model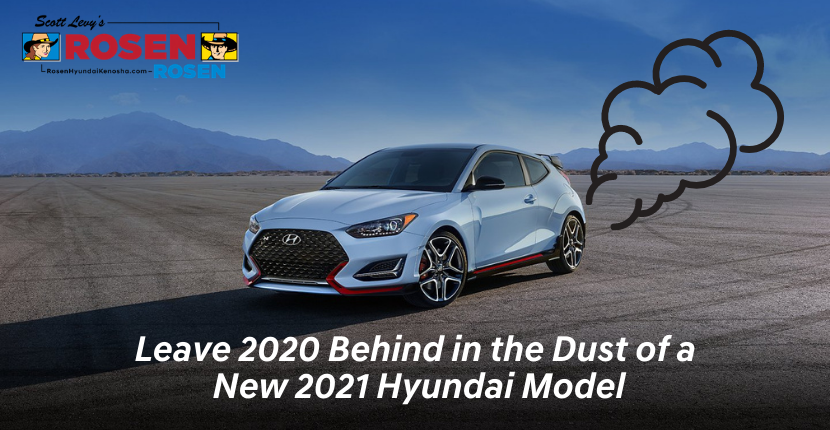 Rosen Motors has proudly served the residents of Illinois and Wisconsin for years, providing top-notch new and used car sales as well as auto service and parts. You can always count on Rosen Hyundai to provide the best sales and service experience in the area. Over the years, Rosen Hyundai has developed a sterling reputation because we care about our customers and strive for 100 percent customer satisfaction. We recently opened a brand-new Hyundai dealership in Kenosha, WI, located at 6701 120th Avenue! 
Give Yourself a Brand-New Start 
We've all experienced it — 2020 has been a tough year. We've all experienced some major changes to our everyday lives that have been challenging to say the least. The COVID-19 pandemic has pushed all of us to our limits, and we've all faced our own personal challenges in our everyday lives as well. As the new year approaches, it's time to start thinking about what life will look like in 2021. 
At Rosen Hyundai, we know how important it is to get a fresh start, especially starting the year of right by beginning it with a brand-new car from your new Hyundai dealership Kenosha. Leave 2020 in the dust of your brand new Hyundai and give yourself a great start to the new year! 
2021 Hyundai Models
Constantly evolving, Hyundai recently released their 2021 models. Hyundai's new SUV models include the 2021 Santa Fe and the 2021 Palisade, and a new sedan model in the 2021 Elantra. Hyundai Motor America is now providing three years of complimentary maintenance with the purchase or lease of a new Hyundai vehicle. The Hyundai Complimentary Maintenance program includes oil and filter changes plus tire rotation at normal factory-scheduled intervals for 3 years or 36,000 miles, whichever comes first. 
Why Choose Rosen Hyundai Kenosha, WI
As a premier Southern Wisconsin and Northeast Illinois Hyundai dealer, we have a huge selection of new and used vehicles from which to choose from. No need to search for "new Hyundai cars near me" anymore. Rosen Hyundai of Kenosha online and offline customers vehicle specials every day. We offer Hyundai service and parts, an online inventory, and outstanding financing options. As you search for "new car dealerships near me", check out Rosen Hyundai Kenosha! We have all of the latest tools and technology to meet all of your auto needs. 
We know that the car buying process doesn't always run as smoothly as you want it to. We simplify every step. Plus, when you buy from us, you'll leave here with a long list of benefits, including Express Service, incredible discounts, and a whole lot more.
Once you visit Rosen Hyundai of Kenosha, you'll come back again and again throughout your vehicle's lifespan and beyond. The search has ended for a "Hyundai dealership near me". Here at Rosen Hyundai Kenosha you will find an expansive inventory of the latest Hyundai cars, sedans, compacts, and SUVs, as well as a great selection of used models. Most importantly, we have a staff of automotive experts and professionals to provide you with exceptional customer service no matter which department you need assistance from. 
Visit Rosen Hyundai Kenosha today to learn more about and test drive our brand-new vehicles to start your year off right!