Hyundai's Staria To Visit a Planet Near You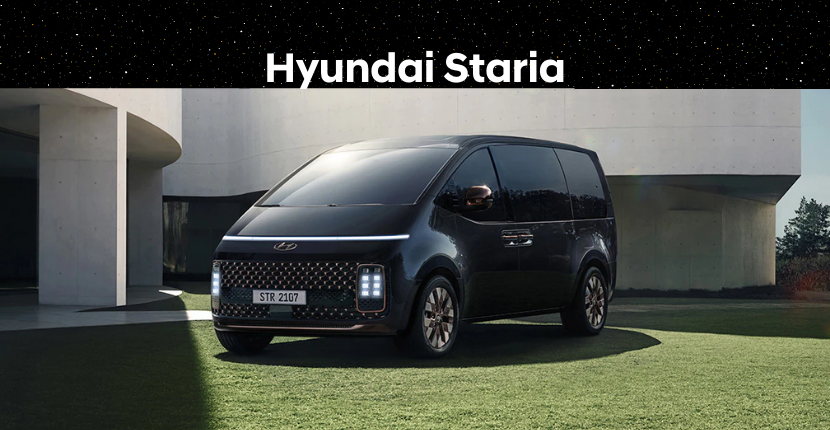 If you have been wanting to travel in a spaceship, or waiting for a countdown to blast you to exciting new frontiers, then the space-exploration styled Hyundai Staria is the must-see vehicle of the future! While the availability of the Staria is limited to specific parts of Earth, you will be pleased with otherworldly Hyundai's at Rosen Hyundai Kenosha. We are the number one Hyundai dealer out of all Kenosha Hyundai dealers.
Get Ready to Staria Gaze
The stellar Hyundai Staria is a movie-set type of car inspired by the Earth's horizon halo as viewed from space. Your neighbors will be jealous when you launch Staria from your garage pad. With a row of horizontal running lights stretching across the horizon of Staria's face, a wide grille, low-set lights like twinkling stars on either side, an elegant and smooth arc reaching the rear capsule with vertical light strips on each side ending at a low-set rear bumper for easy loading of space gear, it is written in the stars that you must shoot for the moon in this vehicle!
Why Space Walk When You Can Space Ride in Luxury
The Hyundai Staria's interior is out of this world! You are the captain in this space capsule as you navigate the night sky with:
A 10.25-inch upright touchscreen center console
Comet-like digital cluster
One-touch relaxation mode for second row lounging
Extra-high roof
Ceiling star lights
Universal island
It also includes an 11-passenger option with second-row swivel chairs so your crew can interact with fellow stars while you watch a movie on the 25-inch monitor mounted on the ceiling. Four, three, two, one, we have lift off with Staria's impressive 174-hp and 318lb-ft torque, and 268-hp and 244 lb-ft. torque available engines that will leave others in the moon dust.
Explore Rosen Hyundai Kenosha Today
Take a giant leap to Rosen Hyundai of Kenosha for an amazing new Hyundai. Explore the huge selection of new and pre-owned vehicles, check out the unbeatable Rosen April Specials, or find the answer to your search for the best Hyundai service center near me. Stop by Rosen Hyundai Kenosha today at 6701 120th Ave. Kenosha, WI 53142 or call us at 888-668-9528. We hope you visit our planet soon!