Time To Celebrate The New Santa Cruz!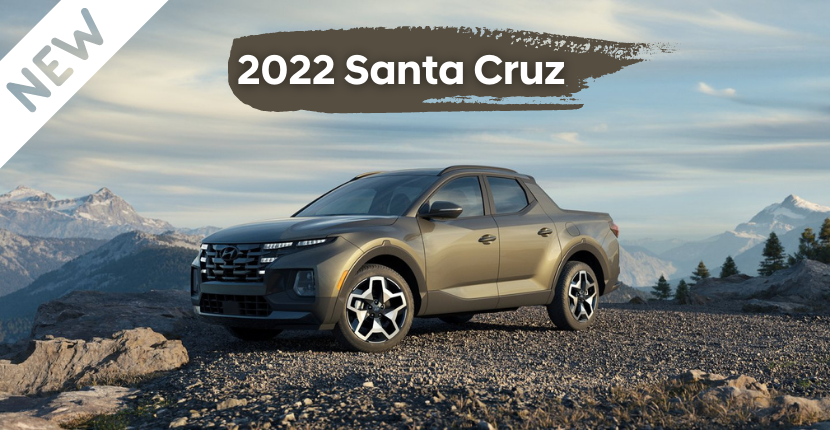 It's official! The all-new 2022 Santa Cruz Sport Adventure Vehicle launched on Tuesday, June 22, 2021. Hyundai Motor Manufacturing is proudly building this new model in Montgomery, Alabama. This ground-breaking vehicle is sure to outdo expectations in both SUV and truck segments. The Santa Cruz is also paving the way for a new vehicle category. Featuring a secure, open bed area which includes a lockable tonneau cover and hidden bed storage, it is no secret why people are talking about the 2022 Hyundai Santa Cruz.
Learn more about the Hyundai Santa Cruz below and you will quickly be searching for the new Hyundai models. Rosen Hyundai Kenosha is ready to help you with all of your auto needs!
All-New Flexibility and Bold Styling
The Santa Cruz was developed to be the ultimate Sport Adventure Vehicle. When we say Hyundai went bold with its new Santa Cruz, we mean it. This vehicle is creating a new segment for the automobile industry as a whole, incorporating open-bed flexibility coupled with closed-cabin security. This vehicle is versatile and can suit either the adventurer or the city dweller. It is considered "multi-utility," providing diverse gear-carrying flexibility. With a powerful and efficient 2.5L Turbo Powerchain with HTRAC AWD Capability Available, the Santa Cruz gets you where you need to go with ease.
Not only is the Santa Cruz cutting-edge when it comes to versatility, but it also incorporates the newest technology when it comes to connectivity, convenience, and active safety features. With its comfort, passenger space, fuel efficiency, and parking ease, the Santa Cruz makes drivers excited to take a seat and hit the road.
Sporty Yet Capable
With large 20-inch alloy wheels with a triangular designs, these wheels are surrounded by armor-like wheel arches that give you the ultimate potential off-road capability. The daytime running lamps feature a parametric jewel decision with flawless detailing. A cascading grille on the front view of the vehicle gives it a sporty look. What really wows is the interior design of the Santa Cruz. Described as rugged yet refined, the boldness of the interior boasts an ambience that appeal to those who need higher-end technology in their lives.
Take a seat in the Santa Cruz, and you will see the work that the Hyundai designers put into this vehicle. The interior of the Hyundai Santa Cruz features an enveloping dual-cockpit design with a premium center stack display. An edgeless infotainment screen with 10 inches of visibility conveys luxury in this rugged vehicle. Found under the rear seats in convenient, in-cabin storage. We couldn't forget about the available Bose audio system, providing you with the greatest entertainment while out on the road.
See the Hyundai Santa Cruz for Yourself
There is so much more to the Hyundai Santa Cruz, but we want you to experience it for yourself! Our team of experienced professionals at Kenosha Hyundai are ready to assist you in finding the vehicle of your dreams. Visit us today to see the new 2022 Hyundai Santa Cruz and all of its amazing features in person.