2022 Elantra N Virtual Debut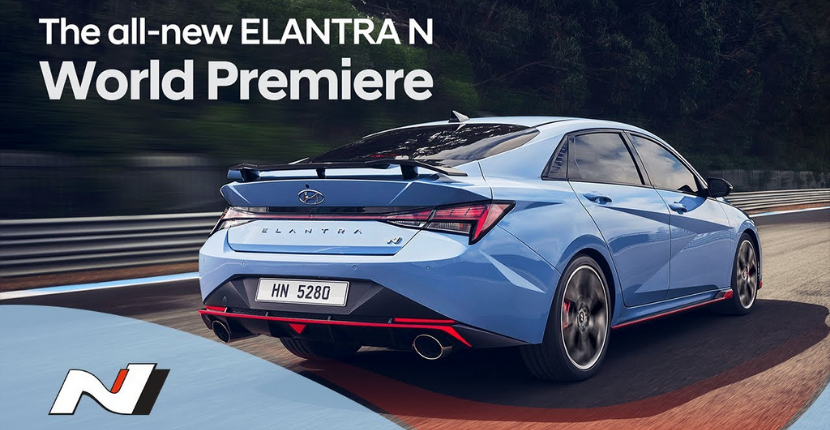 In August, Hyundai unveiled the thrilling all-new 2022 Elantra N in a virtual debut. The N brand is a lineup of everyday sports cars, which adds more than 40 specialist elements to the Elantra. Adding strong, dynamic driving capabilities and aggressive design elements to the standard model, the Elantra N is a high-performance model of the new Elantra. In short, it is tuned precisely to enhance driving performance. With all of these exciting upgrades, now is the time to check out the upcoming 2022 Hyundai Elantra N!
What Is The Hyundai N Brand? 
The mission of Hyundai's N brand is to push the limits of performance and help drivers discover how fun driving can be. In other words, when you're driving a Hyundai N brand vehicle, you're never "just" driving. Vehicles from Hyundai's N brand have been driven by many victorious racers. Some of these include racing in the FIA World Rally Championship, TCR International Series, Pirelli World Challenge, IMSA Michelin Pilot Challenge and Nürburgring 24-hour endurance race.
Thomas Schemera is the executive vice president and head of Customer Experience Division at Hyundai Motor Company. He said of the N Brand,
N brand will always be focused on delivering driving fun – no matter what technology is under the hood. N brand will always be fueled by the emotions drivers experience on the road or racetrack.
Elantra: The First High-Performance N Sedan 
The Elantra N doesn't hold anything back when it comes to power. It features a 2.0-liter, turbocharged, direct-injected flat-power engine with a 52-mm turbine wheel and a 12.5-mm 2 turbine passage. This powerful engine combines with an N eight-speed wet, dual-clutch transmission. This makes it capable of producing an impressive 276 horsepower and 289 lb.-ft. of torque. 
N Exclusive Technology And Connectivity 
The all-new Hyundai Elantra N line features an infotainment system that is exclusive to the N brand. The graphic interface is designed so that drivers can feel as if they are sitting in a dynamically moving VR game seat. Hyundai also employed colorful design graphics to give the experience of  watching a racing game screen. All of this allows the driver to intuitively enjoy dynamic performance. 
Hyundai made sure to design an even better high-performance circuit driving experience. As a result, oil, coolant, torque, and turbo meter information are displayed in the single-circle digital N mode cluster for driver convenience. Drivers can also customize various driving conditions, such as engine and steering feel, for the ultimate experience. Find the Elantra N at Hyundai Dealers Near Me soon!
Combining Dynamic Driving And Sporty Character 
The 2021 Hyundai Elantra N line already features the Elantra's sporty exterior styling, but the 2022 model takes it up a notch. The 2022 adds components that maximize aerodynamics and aggressive appearance. Its sporty exterior is unmatched in the market. In particular, the 2022 Elantra N features a special N front fascia, lip spoiler, N-exclusive red strip from the base of the front fascia along the side, N-exclusive wing spoiler with rear diffuser, and inverted-triangle N-exclusive reflector and dual, single-tipped exhaust. 
Not to be outdone, the Elantra N's interior features many N-exclusive sporty elements. They include the steering wheel, shifter, seats, door scuff panels and metal pedals. For improved comfort, N light sport seats with N illumination are 10mm lower compared to the standard Elantra specification for high-performance drivability. The N light sport seats also reduce seat back thickness by two inches compared to the base model, further highlighting best-in-class rear seat roominess and practicality.
Visit Us At Rosen Kenosha! 
At Rosen Hyundai, we have a wide selection of certified pre-owned vehicles to meet all of your needs. We have a helpful and expert staff to assist you in finding the perfect vehicle for you. So visit us to learn more about the amazing new Elantra N or schedule a test drive today! 
Watch The Full Reveal