Slide Into A Sonata This September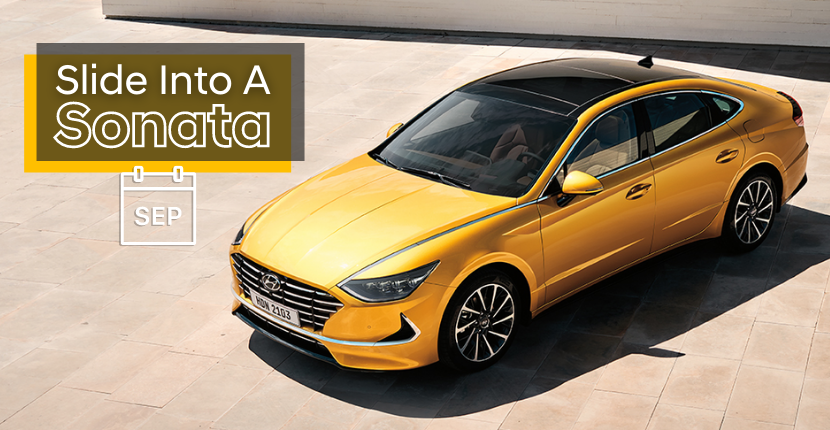 The 2021 Hyundai Sonata takes boldness to a new level. Innovation after inspired innovation makes this Sonata the best thing to happen to sedans in forever. The Sonata astonishes the world with reimagined, well, everything. From sexy sports coupe design cues to tech and safety that bound into the future, there is no limit to the benefits of driving a Hyundai Sonata. Check out the 2021 Sonata at Rosen Hyundai Kenosha!
Now Equipped with Hyundai Smart Park
With Smart Park technology, the 2021 Hyundai Sonata can park itself. It can maneuver the car into and out of tight parking spaces without any effort or control from the driver. You can initiate the technology in two ways. Before you exit your vehicle, you can hit the Smart Park button to prompt your car to park itself. Or, if the park is already parked, you can remote start your vehicle and initiate the parking function with the corresponding buttons on your key fob. 
More Great Features of the Sonata 
While the 2020 Hyundai Sonata is still a great car with great features, the 2021 model made some luxurious upgrades. In addition to Smart Park, Hyundai jam packed the 2021 Hyundai Sonata with other amazing features. The vehicle's Hyundai Digital Key allows you to lock and unlock your doors. It also enables you to start your vehicle's engine conveniently from your compatible smartphone. Inside your Sonata, you'll be able to charge your phone wirelessly and access your smartphone's apps through Apple CarPlay or Android Auto via voice commands or the touchscreen display. 
With the complete package of Hyundai SmartSense features, including forward collision-avoidance assist with pedestrian detection, lane following assist, rear occupant alert, highway drive assist, and blind-spot collision-avoidance assist, you can rest assured that you and your passengers are safe out on the road.
Here at Rosen Hyundai Kenosha, we have plenty of Sonata options. We also have the 2022 Hyundai Sonata in stock now!
The Sonata N Line Now Available 
The most powerful Sonata ever, the 2021 Sonata N line is Hyundai's race-inspired newcomer. It really makes an entrance with its beefy 290-hp turbocharged engine. It's longer, lower, wider, and meaner. The all-new Sonata N Line punches the throttle on styling and performance with a coupe-like silhouette and modern interior made even sportier with N design enhancements. Its power and handling get a big boost with 19-inch wheels, quad exhaust outlets, and its power-enhanced engine. Get in and take off with the Sonata N Line, available at a Hyundai Near Me now!
Check out the Sonata at Rosen Kenosha Hyundai! 
At Rosen Hyundai, our goal is to provide you with a superior experience satisfying your needs. You'll experience the Rosen difference when you shop or service with us. So visit us to learn more about the Sonata or schedule a test drive today!