Hyundai Manufactures Its 5 Millionth Vehicle!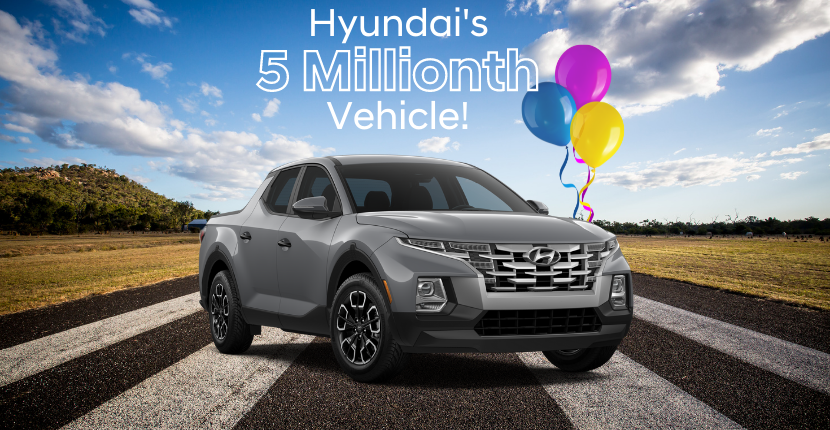 Hyundai has built hundreds of thousands of vehicles over the years. And now, Hyundai Motor Manufacturing Alabama has created its 5 millionth vehicle! This is a huge achievement in Hyundai news causing many to question the history of Hyundai and how they achieved this result. Read more below.
Hyundai Motor Manufacturing Alabama
HMMA has produced an abundance of vehicles in order to reach 5 million. The 5 millionth vehicle was a Hyundai Santa Cruz sport adventure vehicle. Amongst the vehicles HMMA has produced to reach 5 million include:
2,562,880 Sonata
1,489,568 Elantra
908,779 Santa Fe
36,989 Tucson
1,784 Santa Cruz
According to José Muñoz, global COO of Hyundai Motor Company and president and CEO of Hyundai Motor North America,
The 5 millionth vehicle represents a tremendous achievement for Hyundai Motor North America. We could not have achieved this success without the strong leadership and commitment of our team members in Alabama. Hyundai will continue to invest and grow throughout the region.

History of Hyundai
Founded in 1947, the Hyundai Engineering and Construction Company has been manufacturing vehicles for years. Chung Ju Yung, a South Korean entrepreneur, founded the Hyundai Engineering and Construction Company which became responsible for South Korea's transportation infrastructure. Exactly two decades later, the Hyundai Motor Company was established. And only 1 year after that, the company created its Ulsan assembly plant to build the first model; the Cortina.
The 80s and 90s allowed for tremendous growth for Hyundai resulting in becoming a leading international manufacturer for cars. The 90s were also a time for Hyundai to experiment with electric and hybrid vehicles. In 1999, Chairman Mong-Koo Chung was inaugurated as the Hyundai Motor Group Chairman whose mission was to focus on the quality of the vehicles. This notion paved the way for the company and by the early 2000s, Hyundai began to establish itself as a world-class brand. While once manufactured in Korea, Hyundai has made its way to the U.S. making many question; where is Hyundai made? Hyundai's primary facility resides in Montgomery, Alabama where of course, the 5 millionth model was made.
Today, Hyundai focuses on building eco-friendly vehicles with innovative technology. Hyundai believes a pollution-free mobility era can help to improve fuel efficiency that seeks new energy possibilities.
According to Hyundai News, the name 'Hyundai' translates to 'modern times'. This name derives from the Korean word, 'Hyun' which means 'modern' or 'present' and 'Dai' which refers to 'era' or 'generation'. Well, a modern generation is exactly who Hyundai has targeted with innovative, highly advanced models that can accommodate anyone's needs. As Hyundai has now manufactured its 5th million vehicle, there is no telling what Hyundai can accomplish.
Hyundai of Kenosha
Our Kenosha Hyundai dealer offers plenty of new and used Hyundai models for sale. Whether you are looking for a new model or looking for a Hyundai service center near me, our dealership can help! Additionally, our local Wisconsin Rosen Hyundai dealership also keeps a variety of used cars, trucks, and SUVs in inventory. If you are looking to lease or buy a Hyundai model, our Hyundai Finance department is happy to help. So contact us at 888-668-9528 today!