2023 Model Changes Overview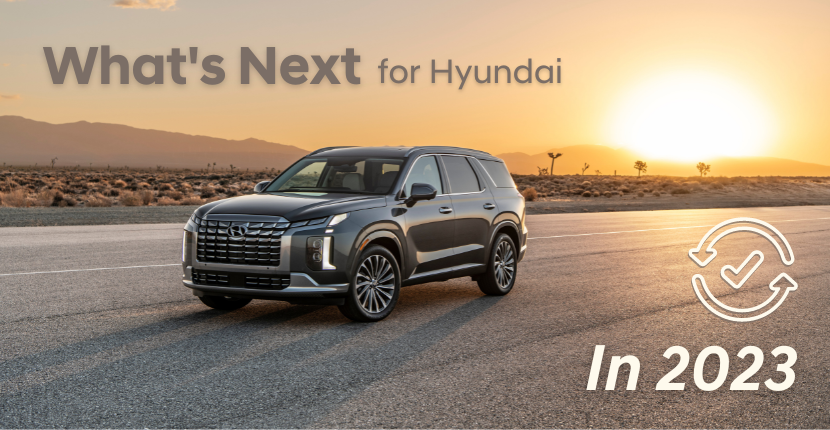 Exciting new developments are coming for the 2023 Hyundai lineup. New changes will include discontinued vehicles and vehicles that will get enhancements, but the best part is the introduction of the all-new IONIQ 6. With so much to look forward to in 2023, there's much cause for excitement for Hyundai fans. Learn more about the 2023 Hyundai vehicle lineup at Rosen's Kenosha Hyundai today!
Vehicles Carried Over For 2023 
Hyundai vehicles that are already offering impressive models will carry over for the 2023 lineup. These models include the 2023 Santa Fe (ICE, HEV, PHEV), 2023 Hyundai Tucson (ICE, HEV, PHEV), 2023 Kona (ICE, EV), 2023 Santa Cruz, 2023 Venue, 2023 NEXO Hydrogen Fuel Cell Electric Vehicle, 2023 IONIQ 5, 2023 Elantra (ICE, HEV), 2023 Elantra (ICE, HEV), 2023 Elantra N, 2023 Sonata (ICE, HEV), and 2023 Sonata N Line. 
Palisade Gets Enhanced In 2023 
Get ready for bold, wonderful adventures with the 2023 Hyundai Palisade, which will receive impressive new enhancements. Hyundai outfitted the rugged and refined the new SUV to take you there and treat you right. With spacious seating for up to 8, the 2023 Hyundai Palisade interior has more intuitive tech, more innovative safety features, and a first-class sophistication that wows. So, make big plans with family, take your grandest journeys with friends. It's all here for you with 2023 Palisade. 
The All-New IONIQ 6 Debuts In 2023
A new form of electricity is coming in 2023. It all began with the hugely successful IONIQ 5. Now the evolution of the IONIQ family continues with Hyundai's streamlined newcomer, the IONIQ 6. Inside the sleek coupe-like silhouette, you'll find Hyundai's most cutting-edge technology and safety innovations. And it's capable of ultra-fast charging, thanks to Hyundai's Electric Global Modular Platform (e-GMP) created exclusively for the IONIQ family. With the IONIQ 6, the future has never looked so good. 
Discontinued Vehicles 
The IONIQ HEV and PHEV will be discontinued due to a significantly expanded electrified lineup with the Elantra HEV, Sonata HEV, IONIQ 5, Kona Electric, Tucson HEV & PHEV, Santa Fe HEV & PHEV and NEXO. The all-new IONIQ 6 gives fans of the IONIQ sub-brand something to look forward to, though. 
The Accent will be discontinued due to an expanded SUV lineup that includes Venue. Venue now serves as the entry-level model for the Hyundai brand. Sedans remain an important part of the lineup and Hyundai continues to offer Elantra and Sonata. Finally, the Veloster N will be discontinued due to new N Brand model expansion of Elantra N and Kona N.
Visit Rosen Hyundai Kenosha!
Looking for Hyundai dealers near me? At Rosen Kenosha Hyundai, we have a full inventory of new and used vehicles—including Rosen EVs! Our goal when you visit our new Hyundai dealership is to provide you with a superior experience satisfying your needs. Experience the Rosen difference when you shop or service with us! Visit us to check out the 2023 Hyundai lineup or schedule a test drive today!