How to Locate Public EV Charging Locations Near Kenosha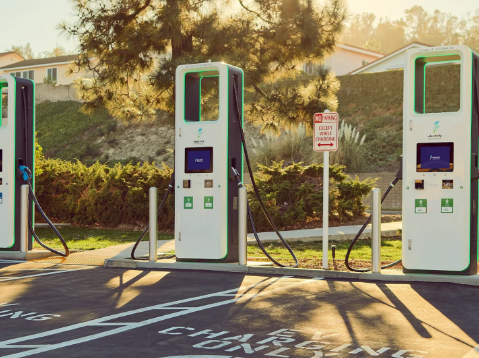 With electrified vehicles you no longer have to rely on gas as the only source of power. In fact, electric and fuel cell models don't use fossil fuel at all. Which is why two of the most important questions many shoppers ask is, "How do I keep my electrified vehicle charged?" and "How does it fit into my life?" We're here to answer these questions and more. Learn more about Hyundai EV chargers now at Rosen Kenosha Hyundai! 
At Home Or On The Go
If you're considering an EV or a plug-in hybrid, it's important to understand the different types of chargers out there and how long each takes to power up your vehicle.
Level 1

: This is the easiest home charging option, since you simply plug into a standard 120V AC outlet at your home. However, Level 1 charging takes significantly longer than other charging options.⁠

Level 2

: The faster way to charge at home. Level 2 charging requires specialized equipment that plugs into a 240V AC outlet, like Hyundai Home's ChargePoint Home Flex EV charger. Fully charging your vehicle can take as little as 7 hours depending on the model and various conditions.⁠ 

Level 3

: Found at public locations like charging stations and shopping centers–check charging capabilities in your area using our map link below. Using over 480 volts, DC fast chargers can take your vehicle from 10% to 80% in as little as 25-64 minutes, depending on model. Even better, a 350-kW, 800V DC ultra-fast charger can power up an IONIQ 5 from 10 to 80% in just 18 minutes. And you get about 68 miles of range after 5 minutes of charging.⁠ 
How to Find Charging Stations 
It's never been easier to find Hyundai EV charging stations. With an expansive network of DC fast-charging stations across the country, you can feel confident there's always power ahead. And IONIQ 5, IONIQ 6 and KONA Electric qualify for limited complimentary charging with Electrify America. Use Hyundai's special-made EV charging stations map to find electric vehicle charging stations near me!
Charging Stations in Kenosha 
Looking for EV charging stations near Kenosha, WI? We've got you covered! Although there are several EV charging stations in the Kenosha area, there is only one charging station in the City of Kenosha. It's located at 5613 8th Avenue, Kenosha, WI, 53140, and it offers Level 2 charging. This station accepts Mastercard, American Express, and Discover. You can contact 833-692-6787 for more information. 
Complimentary Charging With Electrify America
Electrify America has built an expansive network of DC fast-charging stations across the country, so you can feel confident there's always power ahead. And when you purchase IONIQ 5 or KONA Electric, you get limited complimentary charging.⁠ 
Know On The Go Where To Recharge
So, how do public EV charging stations work? Hyundai is here to help! Check out Hyundai's EV charging guide to how to use public EV charging stations! Hyundai navigation systems can locate charging stations along specific routes and refresh as you go. You can also view information about each station. The EV Route Planner also tells you how many charging stops you'll need to make, as well as expected no-charging zones. So, you're confident and prepared on every trip.
Visit Rosen Hyundai Kenosha!
Looking for an EV dealer near me? At Rosen Kenosha Hyundai, we have a full inventory of new and used vehicles—including the exciting new 2023 Hyundai IONIQ 5! Our goal when you visit our new Hyundai dealer Kenosha, WI is to provide you with a superior experience satisfying your needs. Experience the Rosen difference when you shop or service with us! Visit us to learn more about Hyundai EV charging today!