Hyundai Tucson vs Hyundai Tucson Hybrid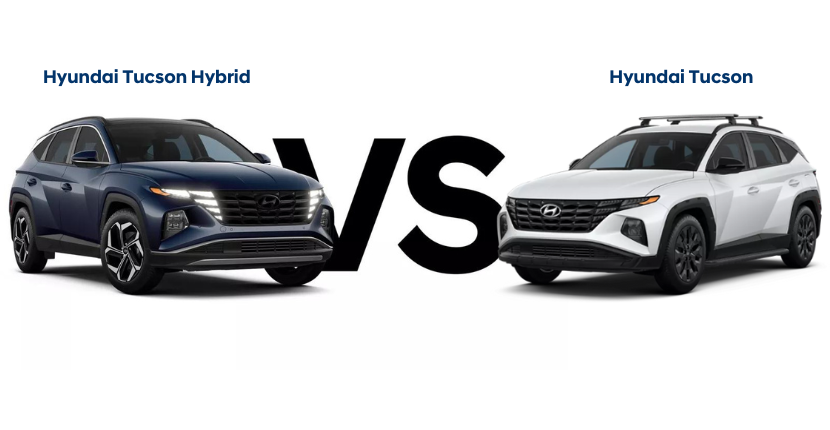 \
Hyundai's lineup of vehicles continues to evolve, and the Tucson and the Tucson Hybrid stand out as impressive options for modern drivers seeking style, efficiency, and innovation. If you're looking for a conventional SUV with a range of powertrain options, the 2024 Hyundai Tucson offers versatile choices. On the other hand, if you're drawn to the benefits of hybrid technology, such as enhanced fuel efficiency and reduced environmental impact, the Tucson Hybrid is a compelling option. Regardless of your decision, both models showcase Hyundai's commitment to delivering vehicles that cater to various lifestyles and values. Experience the Tucson vs. Tucson Hyrbid for yourself now at Rosen Hyundai Kenosha!
Powertrain: Conventional vs. Hybrid Efficiency
The standard Hyundai Tucson comes equipped with a conventional gasoline powertrain. You'll find a choice of engines, including a 2.5-liter four-cylinder engine that delivers a balanced blend of power and efficiency. This engine is paired with an 8-speed automatic transmission for smooth shifts and responsive acceleration.
On the other hand, the Hyundai Tucson Hybrid takes a greener approach with its hybrid powertrain. It combines a 1.6-liter turbocharged four-cylinder engine with an electric motor and a lithium-ion polymer battery. This hybrid setup not only enhances fuel efficiency but also provides an extra boost of electric power when needed. The Tucson Hybrid employs a 6-speed automatic transmission for a seamless driving experience.
Interior Space and Features: Versatility vs. Eco-Friendly Comfort
Inside the Tucson, you'll find a well-designed interior with ample space for passengers and cargo. The rear seats can be folded down to create even more room for larger items. Hyundai's attention to detail is evident in the high-quality materials and user-friendly tech features that enhance the driving experience.
The Hyundai Hybrid Tucson maintains the practicality and comfort of its conventional counterpart while adding an eco-friendly twist. The hybrid powertrain doesn't compromise interior space, allowing you to enjoy the same versatility in terms of passenger and cargo capacity. Additionally, the Tucson Hybrid may feature unique interior touches that highlight its environmentally conscious nature.
Performance and Driving Experience: Balancing Power and Efficiency
The conventional Tucson prioritizes a balance between power and efficiency. Its non-hybrid powertrain delivers responsive acceleration and a comfortable driving experience, making it suitable for various driving conditions.
The Tucson Hybrid is designed for those seeking a driving experience that's not only efficient but also responsive. The electric motor provides instant torque, contributing to swift acceleration and a smooth, refined ride. While it may not be a performance-oriented vehicle, the Tucson Hybrid offers a compelling combination of power and efficiency.
Pricing and Incentives: Exploring the Value Proposition
The standard Tucson typically comes at a lower starting price compared to its hybrid counterpart. If your primary focus is affordability without compromising on features and quality, the conventional Tucson may be the right choice for you. It starts at just $30,115. 
While the Tucson Hybrid may have a slightly higher starting price at $31,350, it's important to factor in potential long-term savings on fuel costs and potential incentives for driving a hybrid vehicle. Many regions offer incentives, tax credits, or reduced emissions-related fees for hybrid owners, contributing to the overall value proposition.
Visit Rosen Hyundai Kenosha!
Looking for a Tucson dealer near me? At Rosen Kenosha Hyundai, we have a full inventory of new and used vehicles—including the exciting new 2023 Hyundai IONIQ 5! Our goal when you visit our new Hyundai dealership Kenosha, WI is to provide you with a superior experience satisfying your needs. Experience the Rosen difference when you shop or service with us! Stop in to test drive both the Tucson and Tucson Hybrid today!