We Want To Buy Your Car!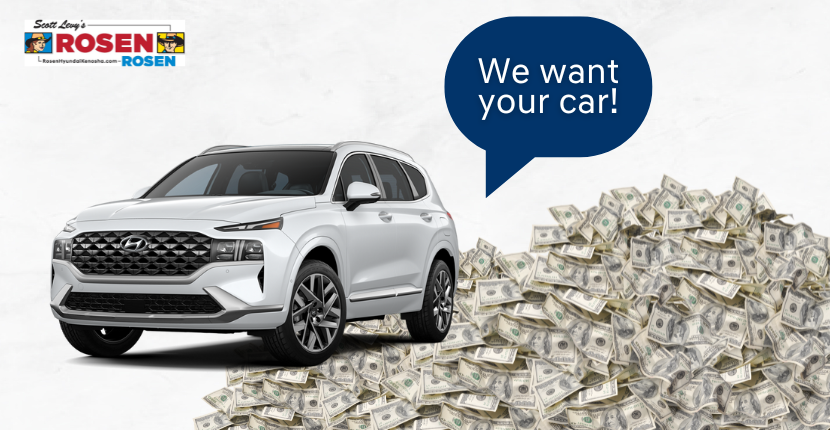 Do you own a used vehicle and want to know how to trade in a car? You can trade-in your used vehicle now at Rosen Hyundai of Kenosha! And right now is the perfect time to sell your used car because many used cars are selling for even more than new cars. There are also many advantages to selling your car to a dealer instead of to an individual or private third party. We buy all makes and models with our easy process, and we pay top dollar for trade-ins! Learn more about the best place to sell your car now at Rosen Kenosha!
The Perfect Time To Trade-In
With the chip shortage, there is a low supply of vehicles in the U.S. auto industry right now. On the other hand, there is a high demand for cars as the economy recovers. The divergence between the supply and demand of vehicles is impacting the auto industry greatly. For you, it means now is a great time to sell your car to a dealer. 
Great Deals Available Now 
The average used vehicle is now nearly 30 percent more expensive than it was at the same time last year. With winter right around the corner, drivers are gearing up for harsh weather conditions by upgrading their vehicle, even with a used vehicle with a newer model year. Plus, there is even more demand for people to be able to make commutes or run errands in their own vehicle, safe from increasingly colder weather. All of this means the trade in value for cars is higher than ever. Make some extra cash now by selling your used vehicle to Rosen Hyundai of Kenosha!
Benefits Of Trading In At A Dealership 
Selling your used vehicle to a dealership comes with many great benefits. The sale of a used vehicle to a dealership is much easier. A dealership will take care of all the paperwork, making your life easier while still knowing you're being taken care of. 
Unlike private third parties, dealerships are also staffed by experts and professionals. This means you'll have people who can accurately estimate the value of your car and give you a fair price. Another big reason to sell to a dealer is that they are much more reputable and safer than an unknown individual. Unlike with people you might find online, your money is guaranteed with a dealership. An individual you don't know or a private third party might cheat you out of it.  For all of these reasons and more, selling your car to a dealership is the best way to go.
Value Your Trade-In Now
Wondering if you can sell my car online? Visit our easy-to-use website to find the trade-in value for cars! Just enter your vehicle's VIN number or plate to see its CarFax report to start the trade-in process. 
Visit Rosen Hyundai Kenosha!
At Rosen Hyundai Kenosha, we have a full inventory of new and used vehicles. We're proud to be your Hyundai dealer! Our goal when you visit our new Wisconsin dealership is to provide you with superior customer service. Experience the Rosen difference when you shop or service with us! Visit us to trade-in cars today.