What Does A Rosen Oil Change Include?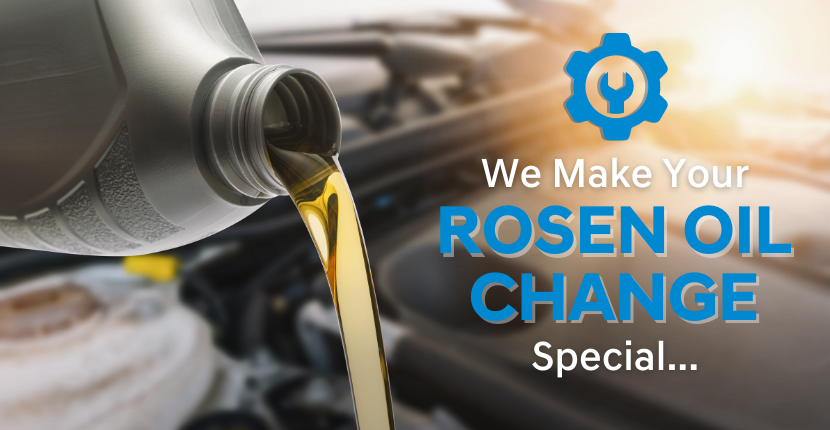 Don't wait until your check engine light comes on. Get your oil changed now at Rosen Kenosha! One of the most important things you can do to prevent engine trouble is to have your oil changed regularly. At Rosen Kenosha Hyundai, our Rosen Service Department will help your car stay in the best shape possible. Our expert technicians can do it all, from oil changes to tire rotations and more. Looking for a Hyundai oil change near me? Visit Rosen Hyundai for an oil change that comes with so much more now!
Why Regular Oil Changes Are So Important
Getting regular oil changes is easy and can extend the life of your car. Engine oil is one of the most important fluids in your car. It helps keep your engine running smoothly and lubricates engine components. As you drive, oil breaks down and is exposed to contaminants reducing its lubricating properties. Many people may be unaware when they should get their oil changed. 
Certified mechanics recommend having your vehicle's oil changed every three months or 3,000 miles. Automobile manufacturers usually advise having the oil changed every 5,000 miles.
Reasons To Service With Rosen Kenosha 
When you service your vehicle with Rosen, everything is easier. With us, no appointment is necessary—walk-ins are always welcome. We know your time is valuable. That's why Express Lube service is available, and the job will be completed in minutes. If you're looking for routine maintenance, you can instantly book an appointment online to fit your schedule. Finally, at Rosen Kenosha, you'll always receive our latest specials for your vehicle.
Rosen Kenosha's Service Amenities 
There are many great reasons to service your vehicle with Elgin Hyundai service. With your oil change, you'll get a free car wash. While you wait, you can enjoy free Wi-Fi access, as well as a variety of magazines and newspapers in the waiting lounge. We also offer free service Valet and free shuttle service to our store. With all of these advantages, why go anywhere but Rosen Kenosha? 
Our Oil Change Specials 
Many people often put off getting an oil change, even though it costs them money in the short and long terms. Adhering to scheduled oil changes for your vehicle provides a bump in fuel economy and goes a long way toward preventing significant maintenance issues. Make it easy on yourself and your vehicle by keeping to an oil change schedule.
Is your car, truck or SUV ready for an oil change? We're offering great oil change specials at Rosen's Kenosha Hyundai, and we have a process in place that makes life easy and convenient for you.
Visit Rosen Hyundai Kenosha!
Looking for a Hyundai near me? At Rosen Kenosha Hyundai, we have an excellent Service Department staffed by ASE certified mechanics that you can trust. Our goal when you visit our new Hyundai dealership is to provide you with a superior experience satisfying your needs. Experience the Rosen difference when you shop or service with us!