You Can Depend On The Sonata And Santa Fe!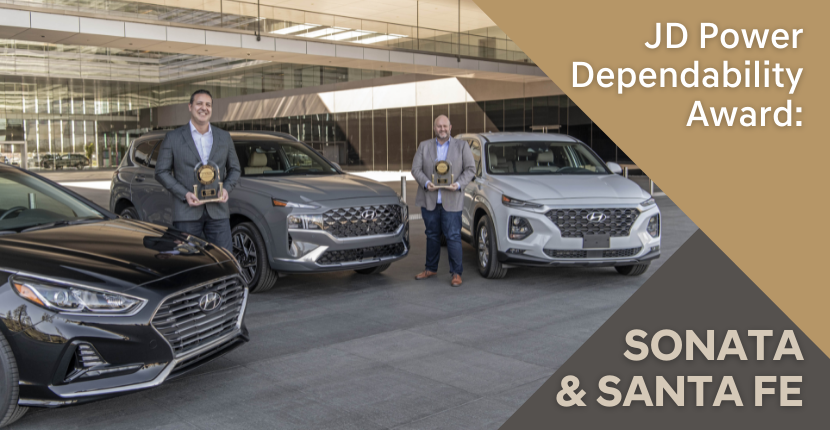 The 2019 Hyundai Sonata and 2019 Hyundai Santa Fe just received the J.D. Power Most Dependable Award. The Santa Fe is Hyundai's best-selling SUV in the brand's 36-year history in America and offers a family-oriented interior, practical cutting-edge technologies and bold exterior looks. Sonata is Hyundai's longest-standing and most successful sedan model and features great active safety systems, effortless technology and a sporty four-door-coupe look. Check out the award-winning 2019 Sonata and Santa Fe now at Rosen's Kenosha Hyundai!
J.D. Power Most Dependable Awards 
The 2022 J.D. Power U.S. Vehicle Dependability Study (VDS) analyzes the long-term dependability of three-year-old models. Now in its 33rd year, the VDS, which was completely redesigned for 2022, examines problems experienced during the past 12 months by original owners of 2019 model-year vehicles. It covers five different aspects to capture how well the vehicle is holding up at three years of ownership.
Hyundai Takes Home Awards 
This year's VDS ranked the Santa Fe and Sonata highest in their segments, beating out leading competitors in the 2019 model year. The Santa Fe was awarded the Most Dependable Midsize SUV, and the Sonata was named the Most Dependable Midsize Car. Hyundai improved from fourth to third place in the study's mass market nameplate rankings, while also finishing third overall among all brands.
Hyundai also performed well in other categories. The Hyundai Elantra came in third place for Most Dependable Compact Car. Also taking third place in the Most Dependable Compact Sporty Car category is the Hyundai Veloster. Lastly, judges placed the Hyundai Tucson third in the Most Dependable Compact SUV category. 
Hyundai Reacts To The Awards 
Barry Ratzlaff, Chief Customer Officer of Hyundai Motor North America, said:
Long-term dependability and quality are critical components to customer satisfaction and brand loyalty. Vehicles must be well designed, engineered, manufactured and have easy to use safety and convenience technologies to outperform the competition in this study. These awards also recognize the strong efforts of Hyundai dealers who support our customers with great service and vehicle education every day.
Hyundai Sonata 
The bolder is better with the Hyundai Sonata. Suddenly the ordinary is extraordinary. Innovation after inspired innovation makes this Sonata the best thing to happen to sedans in forever, astonishing the world with reimagined everything. From sexy sports coupe design cues to tech and safety that bound into the future, the Sonata's done it again.
Hyundai Santa Fe 
The Santa Fe is the adventurous family SUV. Whatever's on your to-do list—even the most epic adventures—the Santa Fe is up for making your journey the best it can be. Stylish, safe, and sure, our HTRAC AWD family SUV is on point for all the excursions your family can muster. 
Visit Rosen Hyundai Kenosha!
Looking for a Hyundai dealership near me? At Rosen Kenosha, we have a full inventory of new and used vehicles. Our goal when you visit our new Hyundai dealership is to provide you with a superior experience satisfying your needs. Experience the Rosen difference when you shop or service with us! Still wondering, "Are Hyundais reliable?" Visit us to learn more about why Hyundai vehicles were honored with the J.D. Power Most Dependable Award today!