Why "Nearly New" Vehicles Are A Great Deal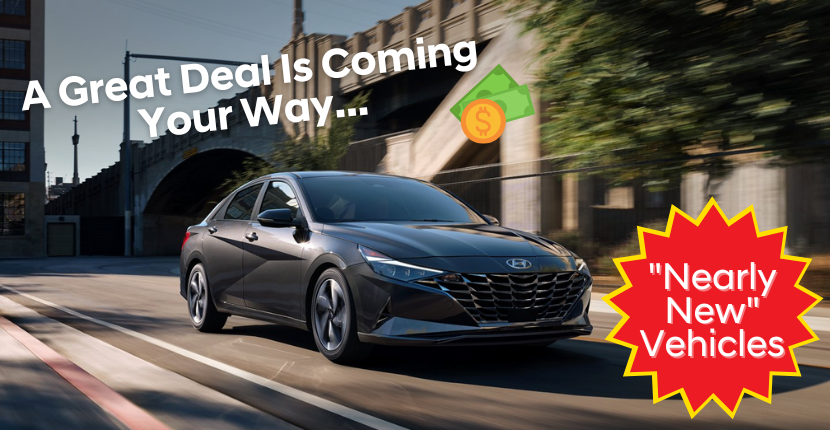 Have you heard of "nearly new" vehicles? What exactly does that mean? At Rosen Hyundai we are going to let you in on a major secret. It's a little known fact, but these "nearly new" vehicles are quite the steal! You can always count on your local Kenosha Hyundai dealer to be looking out for you, and these vehicles are just one example.
What Does It Mean?
When a dealer says a vehicle is "nearly new" there are a few things you should know. Before you write them off, know that these vehicles are in great condition! "Nearly new" isn't just a tagline. When a dealer receives a vehicle that isn't in absolutely perfect condition, they label them as "nearly new". Most often, these vehicles are damaged in transport from production to the dealership floor. Cosmetic damages are the most frequent objections. For example, if a vehicle arrives to our dealership and the rear fender has a dent, it is not in good enough condition. Our Rosen Service experts will inspect the vehicle and complete any necessary service. Essentially, these are brand new vehicles that just needed some minor fixes. As such, they are not entirely new and cannot be sold with that designation. Instead, look for these cars as Certified Used Hyundai vehicles.
What does all this mean for you? You can get an almost brand new car at a discount!
How To Find Them
These "nearly new" vehicles don't come around all the time. That's why when we receive one they're likely to go fast! So keep an eye on your inbox and social channels because we'll be sure to spread the word. Or, if you're in the dealership, ask your Rosen Concierge if we have any on the lot. We'll be sure to help you find the perfect vehicle for you.
There are several standards these vehicles must meet before they can be sold at all. Here's a breakdown of what our team looks for and corrects:
Dealer-Required Mechanical Standards
All mechanical components and systems listed on the Inspection Check Sheet must be operational. Any boxes that have been checked "Service Req'd" must have the appropriate service/repair completed.
Any abnormal noises must be corrected
Inspect oil, oil drain plug, and oil filter for evidence of sludge. Removal of oil pan and or valve covers for further diagnosis may be required. Any indication of engine sludge disqualifies the vehicle from certification.
A test-drive must be performed to ensure there are no drivability concerns
Dealer-Required Appearance Standards
The vehicle must have the interior and exterior detailed
The paint surface must be free of swirl marks
Light scratches not through the clear coat must be removed during the buffing process
Wheels must be clean and free of brake dust
Tires must be clean and dressed. Be careful not to have excessive dressing on tires as this may stain the paint of the vehicle
Engine compartment must be thoroughly cleaned
Trunk, including storage compartments, must be clean and free of debris with no evidence of stains
Spare tire/mobility kit must be present and clean. Do not use tire dressing on the spare tire. Spare tire compartment must be clean and all tools clean, properly stored and in proper working order.
Seats, carpets, headliner, floor mats, glove box, console and package tray must be free of debris and stains
Crevices around the dash, glove box, console and between the seats must be clean and free of any debris
Dash and vents must be thoroughly cleaned
Ashtrays and lighters must be thoroughly cleaned
All doorjambs must be clean
Interior must have a neutral smell, free of odors including heavy "perfume" smells that are used to mask odors
Interior glass must be clean with no evidence of hazing or streaks
Any unnecessary decals must be removed from the windows
Visit Rosen Hyundai Kenosha!
Looking for Hyundai dealers near me? At Rosen Kenosha, we have a full inventory of new and used vehicles—including Rosen EVs! Our goal when you visit our new Hyundai dealership is to provide you with a superior experience satisfying your needs. Experience the Rosen difference when you shop or service with us! Visit us to find out if we have any "Nearly New" vehicles available today.