Hyundai Honored in MotorTrend's Ultimate Car Rankings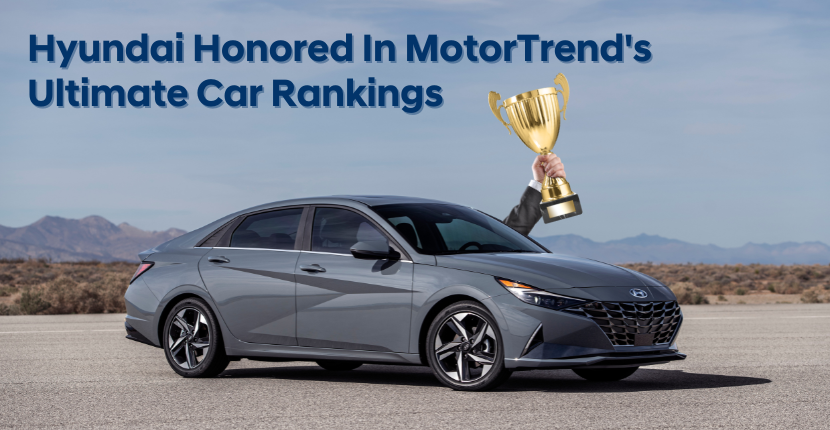 Just last month, a whopping eleven Hyundai models were recognized in MotorTrend's Ultimate Car Rankings for the second half of 2022. The models were awarded based on criteria involving vehicle safety, efficiency, technology and more than 70 years of performance testing experience. That's what sets Hyundai apart from the competition. Hyundai vehicles rank highly on every metric you can think of. Check out why Hyundai models are award-winning now at Rosen Hyundai Kenosha!
Hyundai's Award Winners 
With eleven Hyundai models recognized with awards, MotorTrend's Ultimate Car Rankings makes clear that Hyundais are great vehicles to own. In the compact hybrid sedan and electric SUV categories, Hyundai swept the golds. The 2023 Elantra Hybrid and IONIQ 5 each came in first place respectively. 
Second place finishers include the 2022 Accent, 2023 Hyundai Elantra, 2023 Hyundai Sonata, 2023 Sonata Hybrid, 2023 Hyundai Kona, 2023 Hyundai Santa Fe, and 2023 Hyundai Santa Cruz in the subcompact sedan, compact sedan, midsize sedan, midsize hybrid sedan, subcompact SUV, midsize SUV and compact truck categories respectively. Third place finishers include the 2023 Tucson Plug-In Hybrid and 2023 Hyundai Palisade in the Compact Plug-In Hybrid SUV and 3-Row SUV categories.
What The Awards Mean 
Launched in 2020, MotorTrend's Ultimate Car Rankings were created to help the average car buyer better understand their options. They use MotorTrend's long-running Car, Truck, and SUV of the Year award programs as a foundation. Similarly, the sophisticated Ultimate Car Rankings system smartly evaluates the automotive market. The rankings cover how a car drives, utilize IntelliChoice-backed long-term value analysis and evaluate a vehicle's safety, efficiency, driving range, technology, and more. The rankings were done in more than 45 segments. 
Of the awards, Buyer's Guide Director Zach Gale said:
Only the very best cars, SUVs, and trucks perform well in MotorTrend's Ultimate Car Rankings. We recognize the most well-rounded vehicles available today, ones that are fun to drive, offer impressive tech, and have great long-term value ratings. Because buyers have high standards, we do, too. Achieving excellence in MotorTrend's Ultimate Car Rankings system is not easy, but first-place and top-ranked award winners are the best vehicles around.
Hyundai Reacts To The Awards 
Ricky Lao, Director of Product Planning at Hyundai Motor North America, celebrated the awards, saying:
For so many Hyundai models to be recognized in this important consumer shopping guide highlights how our lineup exceeds nearly any customer need. All of these vehicles have unique designs, upscale interiors, human-focused technology, and advanced Hyundai SmartSense Safety features.
Visit Rosen Hyundai Kenosha!
Looking for Hyundai dealers in Wisconsin? At Rosen Kenosha, we have a full inventory of new and used vehicles—including the exciting new 2023 Hyundai models! Our goal when you visit our new Hyundai dealership is to provide you with a superior experience satisfying your needs. Experience the Rosen difference when you shop or service with us. Visit us to schedule your test drive and see why Hyundai models performed so well in these awards!