2022 Tucson is State of the Art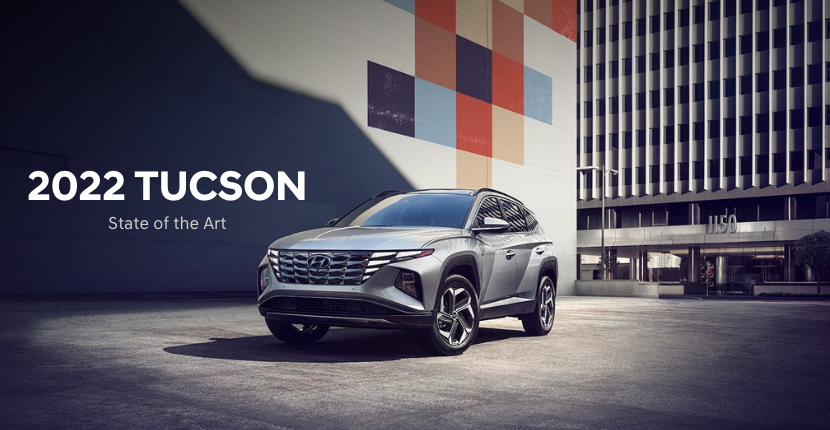 Rosen Hyundai of Kenosha tradition of excellence has strengthened with the exciting news about the 2022 Hyundai Tucson. The increasingly popular Hyundai Tucson has been redesigned for 2022, promising to make it an eye-catching vehicle across the industry. With a new, sleek design, new powertrain options, and an undeniably refined interior and exterior, the new Hyundai Tucson of 2022 will be the must-have car of the year.
2022 Hyundai Tucson New and Updated Powertrain
Underneath the futuristic and intelligent, yet sharp design of the 2022 Hyundai Tucson sits new and updated powertrain configurations for the Tucson, including gasoline with a 2.5L engine and 178 horsepower, the hybrid with a turbocharged,1.6L 4-cylinder engine, 229 horsepower with a continuously variable automatic transmission, and the plug-in hybrid versions with 261 horsepower. The 2022 Hyundai Tucson is also rumored to have the option of an N-Line variant which could possibly be similar to the Sonata N-Line engine which boasts a 2.5L inline-four with 290 horsepower and 310 lb-ft of torque.
Redesigned 2022 Hyundai Design
The redesigned 2022 Hyundai Tucson starts with the unique, jewel-like designed front grille with integrated headlights that join horizontal lines of the long hood that continue down the length of the vehicle accompanied by sharp, chic edges. The sporty and aggressive appearance of the Tucson, with its long and flat roof, larger fenders, wheel arches, and impressive artistic nuisances gives the 2022 Hyundai Tucson length a dynamic impression.
The 2022 Hyundai Tucson interior is also redesigned and modernized. Simple and sleek, the Tucson interior offers comfortable space and user-friendly accessibility with an 8.0-inch or 10.3-inch infotainment touchscreen integrated into the dashboard with dual-screen capabilities on top of a climate control panel with no physical buttons. Hyundai has also included the Hyundai Digital Key in the Tucson that allows customers to open their vehicle with their smartphone, and the "car to home" feature allows customers to link their smart home appliances to their vehicle so the driver can turn on the AC at home from the convenience of the car, and air-quality features for inside and outside of the Tucson.
Visit Rosen Hyundai Today
If you want to experience the best-rated Hyundai stop by Rosen Hyundai Kenosha today to see the full lineup of Hyundai SUVs and the largest selection of new and pre-owned Hyundai vehicles, amazing financing opportunities, the most qualified sales team, and the highest quality service department in the area. Stop by Rosen Hyundai of Kenosha today at  6701 120th Ave Kenosha, WI 53142, or call us at  888-668-9528. We hope to see you soon!