Are Electric 18-Wheelers The Future Of Clean Air?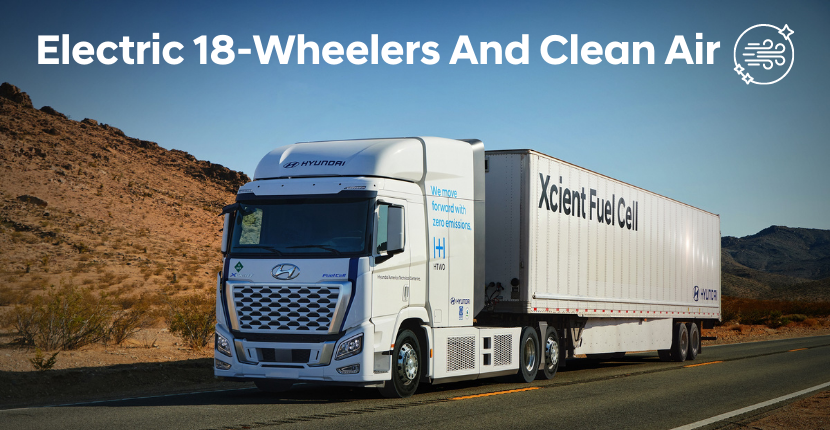 With wildfires affecting the air quality of the northwest part of the country, it has many worried about air pollution. Air pollution has always been a strong concern amongst many when it comes to saving the environment. As a result, many car buyers opt for an electric vehicle to help save on gas and improve air quality. According to the California Department of Motor Vehicles, electric vehicles currently account for just 1.2 percent of the 27.7 million registered passenger vehicles in the state. As EV's gain popularity, there are still many people driving gas vehicles.
Well, Hyundai just announced its plan to deploy the company's latest hydrogen fuel cell electric heavy-duty trucks in California, for two publicly funded projects to help improve the air quality. Check out more on this story from Kenosha Hyundai below.
Electric Vehicles: Hyundai's Plan to Save Air Quality
To help expedite the improvement of air quality, Hyundai is taking action with its electric 18 wheeler plan. The demo trucks that Hyundai will bring into the United States are developed based on XCIENT Fuel Cell. This is the world's first mass-produced, heavy-duty truck powered by hydrogen.
Also known as Zero-Emission Regional Truck Operations with Fuel Cell Electric Trucks, Hyundai's NorCAL ZERO project is changing the clean air landscape. Announced last month, Hyundai news reports that the NorCAL ZERO project will deploy 30 units of Class 8 XCIENT Fuel Cell to northern California by the second quarter of 2023. Each truck will have a 6×4 drive axle configuration. This will be the largest commercial deployment of class 8 hydrogen-powered fuel cell trucks in the U.S.
Hannon Rasool, deputy director of Fuels and Transportation Division at the California Energy Commission comments:
We are proud to fund this hallmark deployment of 30 hydrogen fuel cell electric trucks and improve the air quality in Northern California. These investments will support zero-emission trucks and infrastructure development and deployment as part of the US market ecosystem. Public and private project partners have come together to take a big step forward in decarbonizing freight and goods movement, as part of CARB and CEC's clean air initiatives.
In this case, the US Environmental Protection Agency will fund the project. It does this to help Hyundai's plan contribute to the attainment of clean air by reducing emissions from diesel trucks. For 12 months drivers will conduct long-haul freight operations between warehouses in southern California. Due to a wide variety of support, Hyundai Motor and its fleet partner plan to begin operating these trucks this month! With Hyundai electric trucks operating, the contribution should offer a beneficial solution to polluted air quality.
Hyundai Dealer Near Me
Many more people are considering electric as their choice of vehicle moving into the future. Therefore, many automakers are transforming their lineup to offer more electric models. Rosen Hyundai Kenosha has a variety of EV and hybrid models in our inventory. Our local Wisconsin Rosen Hyundai dealership also keeps a variety of used cars, trucks, and SUVs available. Similarly, we also offer competitive prices and a selection of EV models. Due to this, you won't find a reason to visit any other dealership in Kenosha. So visit us today!