Hyundai Donates an Emotional Support Car to Kids in the Hospital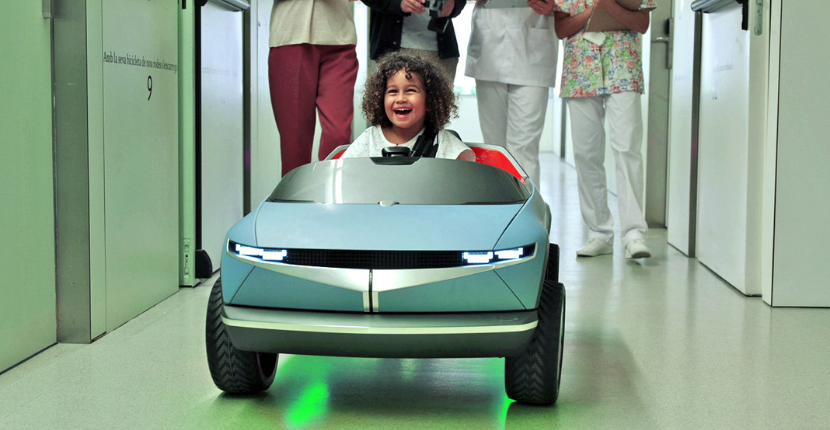 Right before the winter holidays, Hyundai donated an electric emotional support car to a children's hospital in Barcelona, Spain. It was made to transport young patients from hospital beds to treatment rooms while they receive care. The vehicle can also monitor facial expressions and a patient's vitals to tailor the driving experience to the patient's specific situation. 
The "Little Big e-Motion" Project 
Just like the healing and comforting power of emotional support animals, emotional support cars are the next thing designed to help children while they receive serious treatment. Hyundai created and donated the vehicle to a children's hospital in Barcelona as part of its "Little Big e-Motion" project. 
As the most advanced Power Wheel ever made, the Hyundai vehicle incorporates artificial intelligence to monitor and alter the mood and wellbeing of the child who is operating it. It was designed with the intent to accompany kids throughout the hospital in the stressful journeys young patients must undertake to receive treatment. This vehicle is just one in a long list of innovative vehicles Hyundai has been working on. 
The Car that Cares
The vehicle is a miniature electric vehicle version of Hyundai's full-size 45 concept car. It is capable of traveling up to 4 mpg. With Emotion Adaptive Vehicle Control technology, the vehicle uses artificial intelligence to monitor the patient's emotions via facial expressions, heart rate, and respiratory rate. In response, the vehicle automatically adjusts its own lighting, climate, music, and fragrance dispensing systems accordingly. This impressive technology was developed through a collaboration between Hyundai and an academic research group at the Massachusetts Institute of Technology's (MIT) Media Lab. 
How the Tech Works
The advanced technology that powers the Emotion Adaptive Vehicle Control system includes a camera that records and analyzes the young patient's face. At the same time, a Breathing Exercise Belt uses air pockets to apply light pressure to their body in order to reduce anxiety and stabilize breathing. Similar technology is also used to monitor the patient's heart rate and breathing rate. 
Through the system, the vehicle has Emotion Adaptive Lighting that turns green, yellow, or red to signify the patient's mood. To sooth the patient, the vehicle's Emotion Adaptive Scent Dispenser sprays a pleasant fragrance in concurrence with the patient's breathing rhythms. Made for children, the vehicle can also blow bubbles — a feature sure to brighten any kids mood. Additionally, the vehicle makes all of this data available to adults, like doctors and parents, in the room through a tablet app. 
Hyundai Cares 
The entire "Little Big e-Motion" project was designed to help young children who are undergoing serious and difficult treatment for harrowing illnesses and diseases. Hyundai released a heartwarming video to demonstrate the abilities of the vehicle and how it helped a young patient as she drove it to her treatment room. 
Hyundai Near Me
Rosen Hyundai Kenosha applauds Hyundai's work and generosity on this amazing project. We are committed to continuing this tradition by serving your needs whether it's purchasing a new or used vehicle or maintenance on your current vehicle. In search for a "Hyundai near me"? Visit Rosen Hyundai Kenosha online or in-person today!