Hyundai Motor Group Drives New Mobility Innovation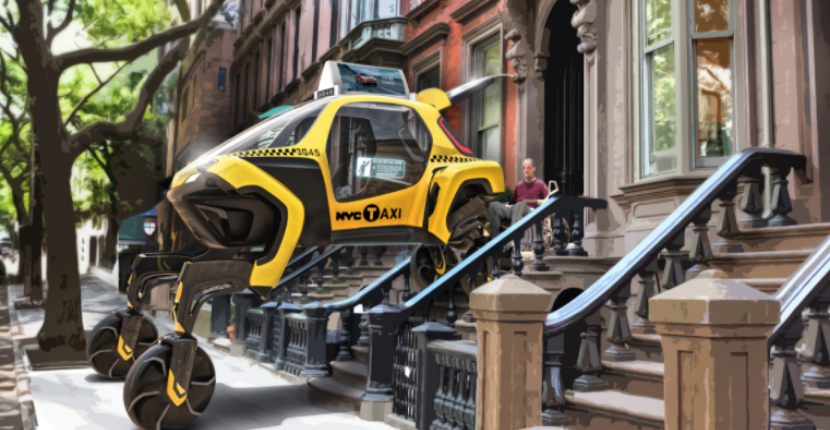 There are a lot of vehicles out there that claim they can handle rugged, unpredictable terrains, but the new Hyundai walking car is a step above. In fact, it transforms into a walking robot to truly tackle all terrains. 
Hyundai innovation has truly reached another level with this new vehicle, called the Elevate UMV, or Ultimate Mobility Vehicle. While the vehicles' concept was first introduced at the annual Consumer Electronics Show (CES) in 2019, it has now reached the prototype stage. With a 5:1 prototype scale, it is part car and well, part transformer. 
Forget flying cars, we just might see walking cars in the near future. Although it may seem like it belongs in futuristic movies or comic books, the vehicle has an interesting concept that may actually serve customers' needs very well. It has four wheels and normally operates as any typical vehicle would. However, it gives drivers and passengers greater access to other areas with extendable lifting legs and wheels that turn 90 degrees to convert into "feet." Newly transformed, the vehicle can now walk forward with a quadrupedal gait to handle any odd or weirdly shaped terrain.
The development of the vehicle was designed for multiple applications. Given the capabilities of the vehicle's robotic legs, it can "crawl" over almost any terrain, traversing paths not accessible for regular wheeled vehicles. This ability makes the model ideal for rescue missions in dangerous areas, such as on rock or snow-covered landscapes. Additionally, the vehicle could be used to aid in research efforts given its ability to crawl over various surfaces, allowing researchers (or robots) to collect samples or survey hard-to-reach areas. Moreover, it may serve disabled drivers and passengers who need aid in getting from the vehicle to their destination, such as from a ramp. The vehicle's unique capabilities would allow the vehicle to lift itself up to allow for direct access into a doorway, a wheelchair, or other elevated ground. 
On the goal of the vehicle to be "pushing the boundaries of vehicle development," Hyundai said, "These vehicles will be subject to more challenging applications and environments, adapting to changing conditions." Accordingly, they envision the Elevate UMV to be able to operate in autonomous mode, which may be useful when acting as a para-transport taxi to move individuals to and from medical facilities. 
Hyundai smart technology is well-known, and the unit leading the effort behind the Elevate UMV is called the New Horizons Studio, headed by Dr. John Suh. The unit is collaborating with Autodesk Generative Design to streamline and accelerate the development of ideas that use computers to generate more design possibilities than humans themselves are able to produce. 
About this collaboration, Dr. Suh said, "Generative design helps the human mind expand the range of possibilities. With the help of generative design, a single designer or engineer can go through perhaps dozens or hundreds of different design iterations, so it enables them to see things that they may not have otherwise considered, and in tandem tackle complex problems."
While it may be a few years until a version of the Elevate UMV is introduced on the consumer market, it is worth keeping an eye on the project for working towards the goal of creating a lighter, more number, and multipurpose vehicle to serve many different human needs.