Hyundai IONIQ 5 vs Hyundai IONIQ 6: Which Is Better For You?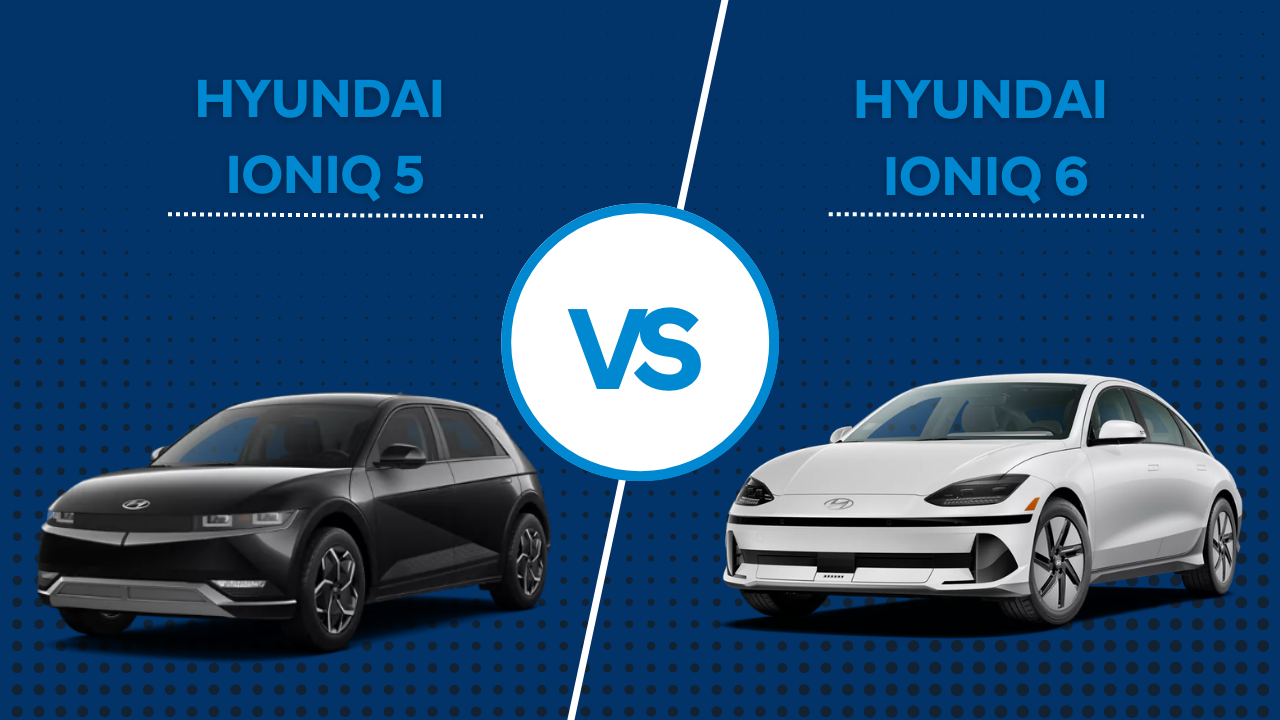 Hyundai's IONIQ lineup has been making waves in the electric vehicle (EV) market, offering impressive features and performance. Two standout models in the lineup are the 2023 Hyundai IONIQ 5 and the 2023 Hyundai IONIQ 6. While they share similarities as part of the same family, there are key differences that set them apart. Learn more about Hyundai IONIQ 5 vs IONIQ 6 now at Rosen Hyundai of Kenosha!
Design Distinctions: IONIQ 6 as the Sleek Sedan
The IONIQ 6 can be seen as the sedan version of its boxy crossover sibling, the IONIQ 5. Drawing inspiration from the Prophecy concept, the IONIQ 6 boasts a more modern appearance with a sleek, boat-tail-like shape. Unlike the IONIQ 5's retro-futuristic design, the IONIQ 6 exudes a contemporary vibe. However, both models share a common signature element: pixelated details in the headlights and taillights. With their distinct aesthetics, it's impossible to confuse one for the other.
Enhanced Efficiency: IONIQ 6 Takes the Lead
Both the IONIQ 5 and the IONIQ 6 are built on Hyundai's Electric-Global Modular Platform (E-GMP) architecture. However, the IONIQ 6 offers greater efficiency. It achieves this through improved aerodynamics and various engineering advancements. With its two battery options of 53 kWh and 77.4 kWh, the IONIQ 6 surpasses the IONIQ 5 in terms of energy efficiency. The implementation of next-gen semiconductors, reworked motors with hairpin windings, and an optimized control strategy for AWD models contributes to the IONIQ 6's exceptional efficiency.
Extended Range: IONIQ 6 Goes the Distance
When it comes to IONIQ 5 vs. IONIQ 6 range, the IONIQ 6 outperforms its sibling. According to EPA ratings, Hyundai advertises a maximum range of 361 miles (581 km) for the IONIQ 6, while the IONIQ 5 offers a maximum range of 303 miles. However, it's worth noting that the IONIQ 6's smaller battery capacity offsets its aerodynamic advantage. As a result, the range for the IONIQ 6's base model is expected to be around 220 miles, similar to that of the IONIQ 5's entry-level offering.
IONIQ 5 vs. IONIQ 6 Price
In terms of pricing, the IONIQ 5 and IONIQ 6 are relatively similar across their respective trims. Both models offer four trim levels, each catering to different preferences and needs. Here's a breakdown of the pricing for each model's trims:
IONIQ 5
SE (Standard Range): $41,450

SE: $45,500

SEL: $47,450

Limited: $52,600
IONIQ 6
SE (Standard Range): $41,600

SE: $45,500

SEL: $47,700

Limited: $52,600
Unlike some other brands, Hyundai EVs, including the IONIQ 5 and IONIQ 6, are still eligible for the federal tax credit of up to $7,500. This tax credit can help offset the cost of purchasing an EV and make it a more financially appealing option.
Visit Rosen Hyundai Kenosha!
Looking for a Hyundai dealer near me? At Rosen Kenosha Hyundai, we have a full inventory of new and used vehicles—including both IONIQ models! Our goal when you visit our new Hyundai IONIQ dealer Kenosha, WI is to provide you with a superior experience satisfying your needs. Experience the Rosen difference when you shop or service with us! Stop in to your local Hyundai dealer to test drive both models today!