Hyundai Palisade's Driver Talk Intercom And Quiet Mode Explained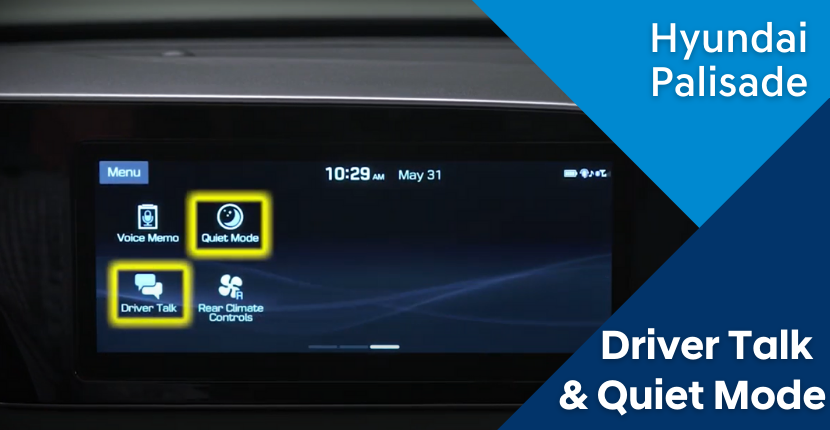 When you're driving an SUV full of friends and family, sometimes it's hard to communicate to those sitting in the back. Other times, those sitting in the back just want a little peace and quiet. Here's where the Hyundai Palisade's available Driver Talk and Quiet Mode come to the rescue. The Palisade's Quiet Mode and Driver Talk makes it simple to keep your passengers connected and comfortable. Looking for a Hyundai Palisade dealer? Check out Hyundai SUV models now at Rosen Hyundai Kenosha!
How to Use Palisade's Quiet Mode
Quiet Mode allows rear seat passengers to rest or sleep in quiet, while still letting front-seat occupants listen to their desired entertainment. To activate it, swipe left on your infotainment home screen. Then, press "Quiet Mode." Then, touch the "Quiet Mode" icon. A green indicator will illuminate to alert you that it is on. Once enabled, the rear speakers are muted. In addition, the front speaker volume left is set to seven automatically. To end Quiet Mode, touch the "Quiet Mode" icon again. The green indicator will disappear, confirming it is off. 
How to Use Palisade's Driver Talk
The Palisade's Driver Talk acts like an in-car intercom, allowing you to use the microphone above the driver's seat to communicate easily with rear seat passengers. To activate it, swipe left on your infotainment home screen. Next, press "Driver Talk." The Driver Talk icon (two message bubbles) appears on the top left of the homescreen to let you know it is activated. Go ahead and speak. Your voice will be heard over the audio speakers in the rear cabin. 
To end "Driver Talk" mode, press "End" on the touchscreen. If you have to navigate away from the Driver Talk screen while it is active but then wish to end Driver Talk mode, simply press the "End Call" button on the steering wheel as it will also cancel Driver Talk mode. Note that when Driver Talk mode is activated, radio and media functions are unavailable. 
More About the Palisade
Looking for a luxurious ride with the option of hauling? Then the Hyundai Palisade is the perfect vehicle for you! The all-new 2022 Hyundai Palisade is an upscale, three-row SUV with a powerful performance and excellent towing capabilities. It's powered by a standard 291 horsepower 3.8L GDI V6 engine, an impressive feat for an SUV. The Hyundai Palisade price starts at just $33,600 and offers a great deal! Hyundai finance is also available for qualified lessees and buyers. 
Visit Rosen Hyundai Kenosha!
Looking for Hyundai dealers near me? At Rosen Hyundai of Kenosha, we have a full inventory of new and used vehicles—including Rosen EVs! Our goal when you visit our new Hyundai dealership is to provide you with a superior experience satisfying your needs. Experience the Rosen difference when you shop or service with us! So visit us to learn more about or schedule a test drive of the amazing Hyundai Palisade now.