How To: Create User Profiles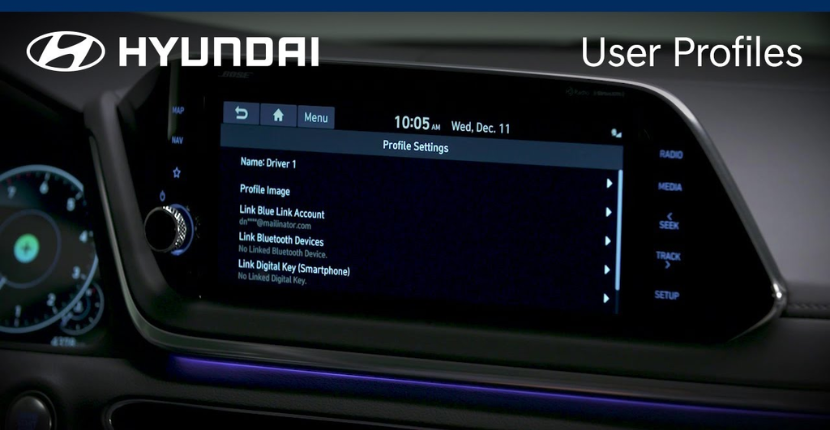 Hyundai's state-of-the-art Bluelink combines intelligent automotive and IT technologies in order to provide greater comfort, safety and convenience for drivers. In addition to a refined user interface, the upgraded Bluelink Hyundai technology offers a range of new benefits and services for Hyundai customers, including Connected Routing, Last Mile Navigation and live parking information, and a new user profile feature. The Hyundai user profile feature allows you to create settings that will automatically be applied every time you drive, including internal temperature. Visit Rosen Hyundai Kenosha for more Hyundai tech info! 
MyHyundai 
Whether you're looking to build your future Hyundai vehicle, get connected with Blue Link or want to get to know all of the features and services in your vehicle, MyHyundai is your place to join, research, browse, and learn. 
How To Set Up Hyundai User Profile 
To set up a user profile, visit your vehicle's infotainment system's home screen. Then press [Setup] > [User Profile]. The user profile settings screen is displayed. You can add info and details on your user profile here. 
To change your user profile settings, navigate to the user profile settings screen, then press [Guest]/[Driver 1]/[Driver 2]. Then, press the desired item:
[Name]: Changes the user name.

[Password]: Sets a password after linking the connected services account.

[Profile Image]: Selects an image to be used as a profile.

[Link Connected Services Account]: When linking with a connected services account, convenient vehicle management and various services are used.

[Download Backup File]: Loads the backup file after linking the Connected Service account.

[Delete Profile]: All saved data and profile settings are deleted, and the system is initialized.
Models With User Profile Feature 
Hyundai models that have the cool user profile feature include the 2020+ Hyundai SONATA, 2020+ Hyundai SONATA Hybrid, 2021+ Hyundai ELANTRA , 2022+ Hyundai ELANTRA N, 2021+ Hyundai ELANTRA Hybrid, 2020+ Hyundai KONA , 2020+ Hyundai KONA Electric, 2022+ Hyundai KONA N, 2022+ Hyundai TUCSON, 2022+ Hyundai TUCSON Hybrid, 2022+ Hyundai TUCSON Plug-In, 2022+ Hyundai SANTA CRUZ, 2021+ Hyundai SANTA FE, 2021+ Hyundai SANTA FE Hybrid, and 2021+ Hyundai SANTA FE Plug-In. 
A New And Redefined User Interface
Hyundai's upgraded Bluelink features a new user interface (UI) with a black screen and updated blue icons that display the time, weather and, if selected by the user, map guidance.
The map UI now offers a choice between three color schemes and an enhanced dark night mode. It displays a range of GPS-based information to aid drivers, including the current speed of the vehicle and information about traffic density.
For a more tranquil driving experience, users can also select from different audible atmospheres called "Sounds of Nature". These include "calm ocean waves," "rainy day," "open-air café," "warm fireplace," and "snowy village." 
Visit Rosen Hyundai Kenosha!
Looking for Hyundai dealers in Wisconsin? At Rosen Kenosha, we have a full inventory of new and used vehicles—including the exciting new 2023 Hyundai Kona! Our goal when you visit our new Hyundai dealership is to provide you with a superior experience satisfying your needs. Experience the Rosen difference when you shop or service with us! Visit Hyundai Kenosha, Wisconsin to learn more about all of the amazing tech and convenience features in your new Hyundai vehicle!