Rosen Tips: Lease vs. Buy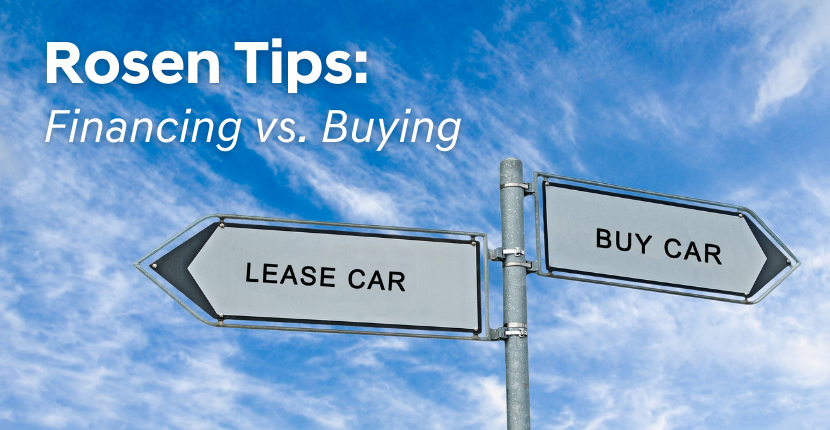 If you're on the market for a new car, it's important to consider your options. Choosing to lease or buy a vehicle comes with different advantages and disadvantages. Depending on your situation, one option might be better than the other. Either way you go, we believe that shouldn't stop you from getting the car you need. At Rosen Kenosha, we strive to make it possible by offering bad credit car leasing and financing. This means drivers can obtain a loan despite having no credit or bad credit. No matter which you're interested in, come see us at Rosen Hyundai of Kenosha! We would love to accept your Hyundai lease return, even if you didn't originally lease from us.
What It Means To Lease A Vehicle 
When you leave a vehicle, you don't own it. Instead, you have a monthly payment to drive it. Leasing is a great option for customers looking to rent a new vehicle from the dealership for a specific length of time and number of miles. Typically, a customer will pay monthly installments on the car, and the dealership lets you drive it in exchange. Once the lease is up, users can return the car to the dealership or outright buy the car by paying out the remaining lease.
To Lease Or To Buy? 
Wondering if leasing vs buying a car is better? It depends on your situation. Both require you to make monthly payments to drive the vehicle. If you're buying, your monthly payments will be determined with Hyundai Finance. When you lease, though, you don't own the vehicle. This means you'll only have to pay to drive it for a specified time, which many people prefer so they can update the vehicle every few years or only use it for the specified time they need it. On the other hand, buying the vehicle means you own it and get to use it however you want and as long as you'd like. Leasing gives you more flexibility, while buying gives you stability and dependability. 
Difference In Cost 
When you lease a vehicle, the dealer determines your monthly cost by factoring in the car's depreciation into the cost. Over time, the payments will be less since you're paying the amount that the vehicle depreciates instead of the entire price of the car. Thus, paying for a leased vehicle is often less expensive than financing a car. You can use our Car Finance Calculator to estimate your payment now!
How To Decide 
Not sure whether to lease vs buy a car? One advantage of leasing is that you'll get to drive the vehicle during its most trouble-free years, and you're always driving around the latest model while being covered with the manufacturer's warranty. Your lease may even include scheduled maintenance and free oil changes.
On the other hand, the advantages of buying a car are that you own it and get to do whatever you want with it. That means you're free to drive as many miles as you wish. You also won't have to worry about excessive wear and tear. If you want, you can sell or trade in the vehicle any time, so you can get some money out of the sale.
Visit Rosen Hyundai Kenosha!
Looking for Hyundai dealers near me? At Rosen Kenosha Hyundai, we have a full inventory of new and used vehicles—including Rosen EVs! Our goal when you visit our new Hyundai dealership is to provide you with a superior experience satisfying your needs. Experience the Rosen difference when you shop or service with us! Visit us to learn more about our amazing Hyundai lease deals today!